Vacation Planning Learn from the many mistakes we've made over the years
Ireland vacation planning tends to overwhelm people as there is so much to see and do despite Ireland being a small country. Is it too much? Am I doing too little? Friends and family are feeding you lists of what you need to see while there and believe it or not, things have changed in Ireland over the years. We're here to help steer you in the right direction to make the best out of your trip.
When we first started traveling Ireland in 1994 it was possible to travel around Ireland without reservations, stopping at any Irish Bed and Breakfast and seeing if they had an available room for the night. Stay as long as you like or move on, it was up to you. With increase in tourism and promotion of the Irish Bed and Breakfast, "winging it" is still possible during the off season however it's not for those who want to spend their time enjoying all that Ireland has to offer instead of spending time trying to find a place for the night.
We have put everything we've learned, mistakes and all, planning our Enchanting Ireland vacations over the years, online for free so that we can help everyone plan their first or next trip to Ireland and make it simply perfect!
Where do I being planning my Ireland vacation?
Too often we receive calls or emails pleading for help with Ireland vacation planning because the traveler either knows nothing about Ireland or friends, family and co-workers have given them too much information and they don't know how to fit it all in.
Over the years, we've helped people plan trips for 1, 2 or 25 by starting with these simple steps:
Buy a good Ireland travel book: Skim it to find out the major sites in Ireland, determining what is interesting to visit to YOU. We recommend the Eyewitness Travel Guide.
Compile a "Must See" list: Meet with all travelers and discuss what each of you "must see", compiling a list. Narrow this down to what is on everyone's "must see" list, relegating others to a "like to see" list.
Contact us with your list: We will help put that list into an itinerary, making suggestions on where to stay each night so that you fit most, if not all, of your sites into your vacation. (We now require a $$ deposit for itinerary help due to potential clients using this service and booking their trips elsewhere)
Pick Accommodations: Now that you know where you'll be each day, you can begin selecting B&Bs, hotels, manors or castles based on what your travel style and budget.
Get Unlimited WiFi Abroad - Saving Your Cellphone Bill
With two of us taking our Verizon phones with us, we incurred a $10/day charge for each phone as well as burning through data along the way. We made out daughter turn hers on airplane mode and only connect when we found WiFi or we would have to mortgage the house again due to the high amoungs of data she would use.
After some research, we found an alternative that is much less expensive: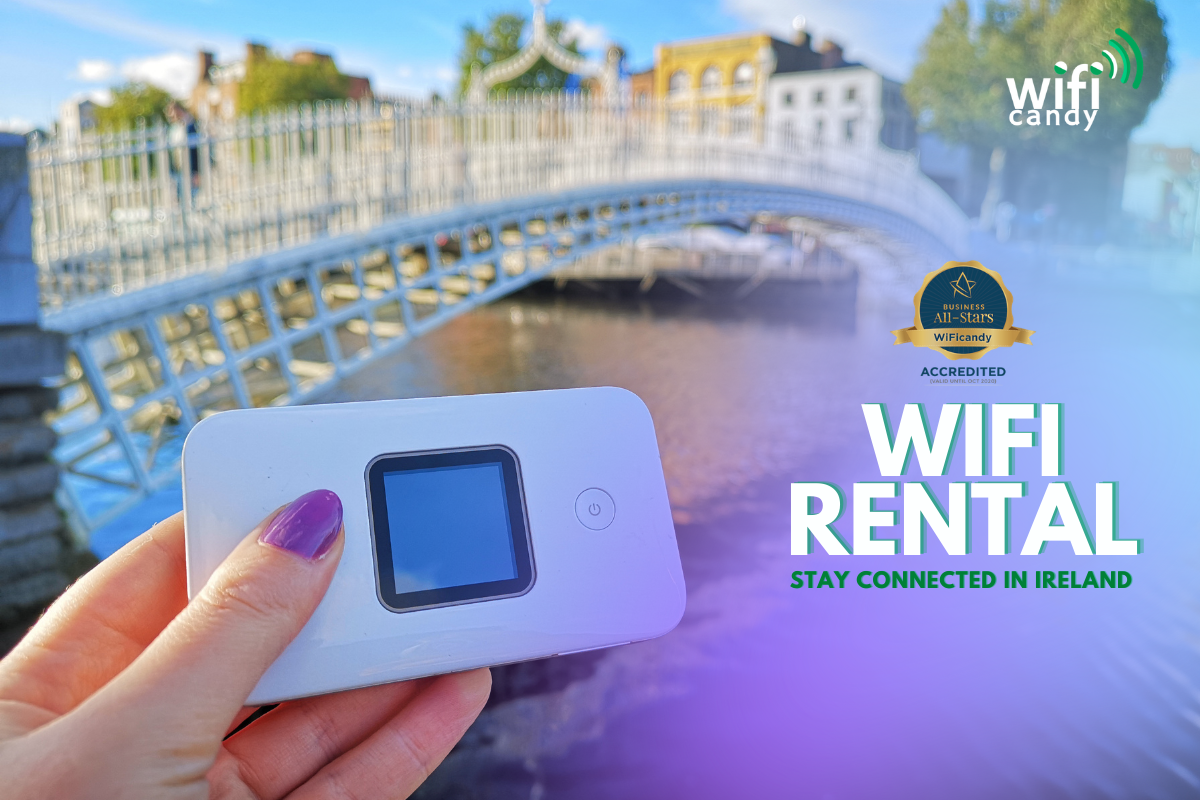 Get 10% Off w/Coupon Code: EnchantingIreland using this link: https://wificandy.ie/?ref=enchantingireland
Request a custom Ireland self-drive vacation today!